Cool and Fancy Font Generator
Easily generate thousands' of copy and paste fonts in one click
Are you searching for the best font generator tool? You are at the right place. At fancyfonts.top we provide the best and advance font generator which is capable of transforming any english letter into cool fonts. Also the font that is generated by this tool can be used by just copy and pasting it. And can be used almost everywhere. It really is an amazing experience when you use these fonts or text. This tool is always free to use.
Many pretty and beautiful font generators are there. Below are some example.
| | | |
| --- | --- | --- |
| text generator | fancy text generator | small text generator |
| cool text generator | stylish text generator | instagram font generator |
| bold text generator | fancy font generator | calligraphy font generator |
| cool font generator | font converter | pubg stylish text generator |
| cursed text generator | tattoo font generator | stylish font generator |
| cool fancy text generator | weird text generator | tiny text generator |
| calligraphy generator | font generator copy and paste | text font generator |
| cursive generator | glitch text generator | small font generator |
| aesthetic font generator | online font generator | pubg name generator with symbols |
Text Generator
Generate aesthetic text styles with this cool font genrator
As you may have explored the website, you might have found this website provides some of the best cool and stylish text. Many different types of stylish text are being generated here and provided for free. Just copy the text and paste it anywhere to show off in front of your friends. It is very easy to use and help the users to create an amazing social profile on social media.
The font generator generates the below different font styles:
Circled- Ⓕⓞⓝⓣ Ⓖⓔⓝⓔⓡⓐⓣⓞⓡ
Circled (neg)- 🅕🅞🅝🅣 🅖🅔🅝🅔🅡🅐🅣🅞🅡
Fullwidth- Font Generator
>Math bold- 𝐅𝐨𝐧𝐭 𝐆𝐞𝐧𝐞𝐫𝐚𝐭𝐨𝐫
Math bold Fraktur- 𝕱𝖔𝖓𝖙 𝕲𝖊𝖓𝖊𝖗𝖆𝖙𝖔𝖗
Math bold italic- 𝑭𝒐𝒏𝒕 𝑮𝒆𝒏𝒆𝒓𝒂𝒕𝒐𝒓
Math bold script- 𝓕𝓸𝓷𝓽 𝓖𝓮𝓷𝓮𝓻𝓪𝓽𝓸𝓻
Math double-struck- 𝔽𝕠𝕟𝕥 𝔾𝕖𝕟𝕖𝕣𝕒𝕥𝕠𝕣
>Math monospace- 𝙵𝚘𝚗𝚝 𝙶𝚎𝚗𝚎𝚛𝚊𝚝𝚘𝚛
Math sans- 𝖥𝗈𝗇𝗍 𝖦𝖾𝗇𝖾𝗋𝖺𝗍𝗈𝗋
Math sans bold- 𝗙𝗼𝗻𝘁 𝗚𝗲𝗻𝗲𝗿𝗮𝘁𝗼𝗿
Math sans bold italic- 𝙁𝙤𝙣𝙩 𝙂𝙚𝙣𝙚𝙧𝙖𝙩𝙤𝙧
Math sans italic-𝘍𝘰𝘯𝘵 𝘎𝘦𝘯𝘦𝘳𝘢𝘵𝘰𝘳
Parenthesized- ⒡⒪⒩⒯ ⒢⒠⒩⒠⒭⒜⒯⒪⒭
Regional Indicator- 🇫🇴🇳🇹 🇬🇪🇳🇪🇷🇦🇹🇴🇷
Squared- 🄵🄾🄽🅃 🄶🄴🄽🄴🅁🄰🅃🄾🅁
Squared (neg)- 🅵🅾🅽🆃 🅶🅴🅽🅴🆁🅰🆃🅾🆁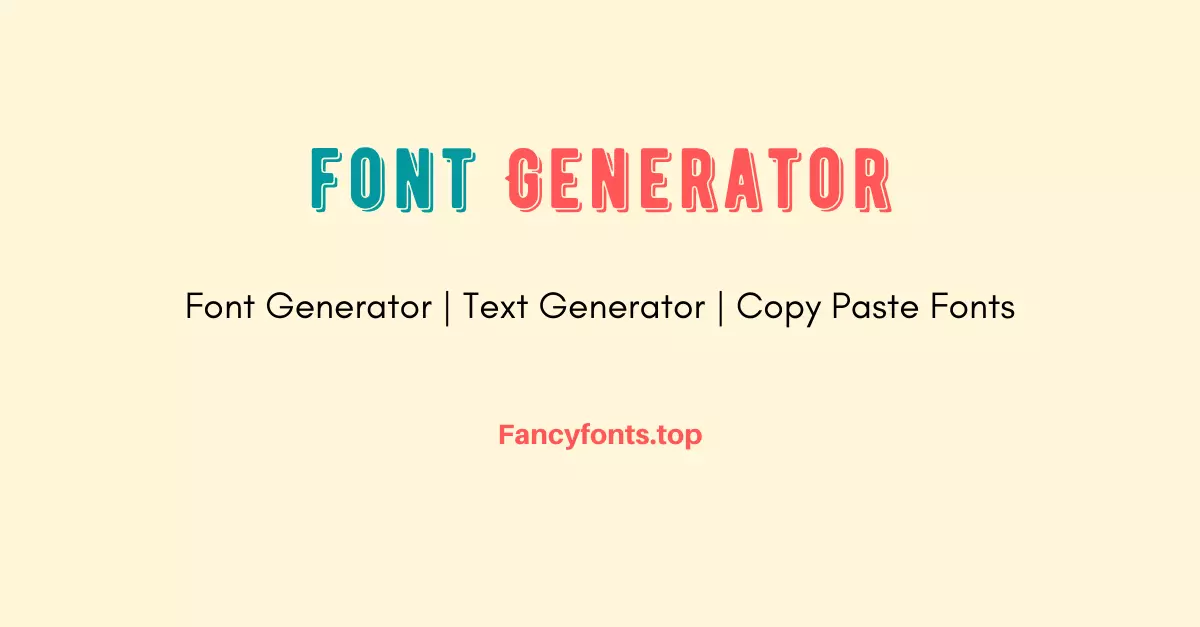 How to Use?
This font generator works in a single click.
To Use this Text Fonts Generator website you need to follow some simple steps. This website is designed in a simple way that everyone can use this text fonts website easily. Now just you need to type the website in google or any search engine www.fancyfonts.top and when you land on mthe website then you need to type text in -- Enter Your Text -- Box and you will see that this text is converted into mind-blowing fancy, stylish, & cool looking text fonts. Now you need to just copy and paste these stylish text fonts on Instagram, Facebook, or any online social media platforms of your choice..
FAQ's
All Your Questions Aswered Regarding the Font Generator
Fancyfonts.top is the best font generator. Over millions of people use it daily and are happy with the tool as it provides other functionality with the tool.
You can get many different font style on www.fancyfonts.top website. You only need to enter your text and the font generator will automatically produce many amazing different font style.
Yes, this font generator is mobile friendly and works perfectly on any device.
Yes, this tool is equipped with many aesthetic fonts which looks fancy and cool.
These fonts can be used online everywhere. This can also be used on your word documents. These are also compatible on social media platforms like Facebook, Instagram, Twitter etc.