Instagram Fonts
Instagram (IG) Fonts Generator:💕 Copy and Paste IG Fonts
Instagram fonts (IG fonts) have become a wide search term nowadays. As you may know, Instagram is a popular social media platform used by millions of people around the world. This popularity makes it a great place to promote your business. One way to do this is by using Instagram fonts. These fancy fonts help users to style their Instagram profiles in a unique way. Instagram users use these fancy fonts to make their profile look attractive and distinct from others.
What are instagram fonts?
Instagram fonts are actually different unicode characters which when used on instagram user profile looks fancy and stylish. There are many different font styles that can be used on platforms like Instagram, but some of the most popular are Math bold, Math bold Fraktur, Squared (neg), and many others which we will discuss below.
Welcome to Insta fonts generator! We provide you with the best Instagram fancy fonts and Instagram bio fonts to help you design your profile, name and bio with the most beautiful and attractive looking letters. This IG Fonts generator has almost every fancy letters including bold, italic, and cursive. You are free to use any of the fancy Instagram letters, we don't charge you any amount for this. However, we do ask you to share this Instafont generator website with your friends and relatives. This helps us to keep making these small websites and tools and your sharing keep us motivated.
Fonts for Instagram
Add cool Instagram fonts to your profile, posts and, IGTV videos
Fonts for Instagram are compatible with Instgram and can be used on Instagram posts, comments and captions. There are variety of fancy Ig fonts available and our tool Instagram fonts Generator provides it all with a special copy button that makes it even more easier to be used on Instagram.
The best fonts for Instagram bio are as follows:
| S.No. | Font Name | Preview |
| --- | --- | --- |
| 1. | Math bold | 𝐈𝐧𝐬𝐭𝐚𝐠𝐫𝐚𝐦 𝐅𝐨𝐧𝐭𝐬 |
| 2. | Math bold Fraktur | 𝕴𝖓𝖘𝖙𝖆𝖌𝖗𝖆𝖒 𝕱𝖔𝖓𝖙𝖘 |
| 3. | Math bold italic | 𝑰𝒏𝒔𝒕𝒂𝒈𝒓𝒂𝒎 𝑭𝒐𝒏𝒕𝒔 |
| 4. | Math sans bold italic | 𝙄𝙣𝙨𝙩𝙖𝙜𝙧𝙖𝙢 𝙁𝙤𝙣𝙩𝙨 |
| 5. | Math sans italic | 𝘐𝘯𝘴𝘵𝘢𝘨𝘳𝘢𝘮 𝘍𝘰𝘯𝘵𝘴 |
| 6. | Parenthesized | ⒤⒩⒮⒯⒜⒢⒭⒜⒨ ⒡⒪⒩⒯⒮ |
| 7. | Regional Indicator | 🇮🇳🇸🇹🇦🇬🇷🇦🇲 🇫🇴🇳🇹🇸 |
| 8. | Squared | 🄸🄽🅂🅃🄰🄶🅁🄰🄼 🄵🄾🄽🅃🅂 |
| 9. | Squared (neg) | 🅸🅽🆂🆃🅰🅶🆁🅰🅼 🅵🅾🅽🆃🆂 |
| 10. | Math bold script | 𝓘𝓷𝓼𝓽𝓪𝓰𝓻𝓪𝓶 𝓕𝓸𝓷𝓽𝓼 |
| 11. | Math double-struck | 𝕀𝕟𝕤𝕥𝕒𝕘𝕣𝕒𝕞 𝔽𝕠𝕟𝕥𝕤 |
| 12. | Math monospace | 𝙸𝚗𝚜𝚝𝚊𝚐𝚛𝚊𝚖 𝙵𝚘𝚗𝚝𝚜 |
| 13. | Math sans | 𝖨𝗇𝗌𝗍𝖺𝗀𝗋𝖺𝗆 𝖥𝗈𝗇𝗍𝗌 |
| 14. | Math sans bold | 𝗜𝗻𝘀𝘁𝗮𝗴𝗿𝗮𝗺 𝗙𝗼𝗻𝘁𝘀 |
| 15. | Circled | Ⓘⓝⓢⓣⓐⓖⓡⓐⓜ Ⓕⓞⓝⓣⓢ |
| 16. | Circled (neg) | 🅘🅝🅢🅣🅐🅖🅡🅐🅜 🅕🅞🅝🅣🅢 |
| 17. | Fullwidth | Instagram Fonts |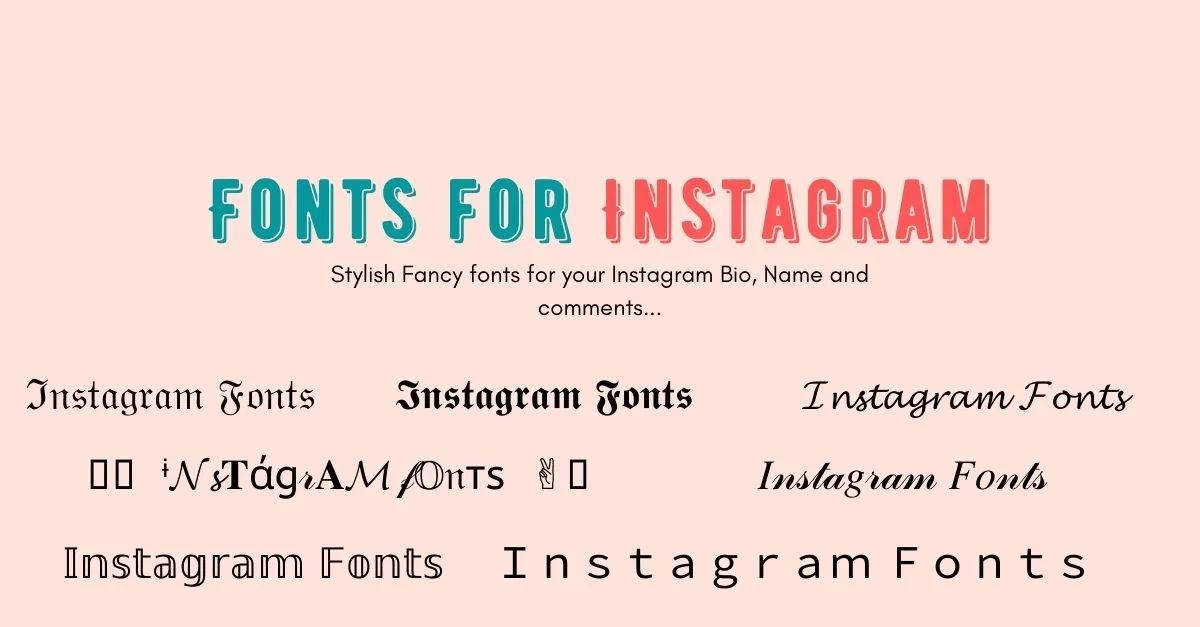 Instagram font generator
Instagram font generator lets users type in their text and choose from a selection of fonts that are available to be used on the photo-sharing app. It is mainly use to create instagram fonts for captions and instagram font style name. As well as being able to choose from a variety of fonts, users can also play around with the size and colour of the text. Instagram fonts 2022 are also available in different styles, such as script, bold, italic and, calligraphy.
This is an easy way to create an Instagram post with a unique, personalised feel. Generating an Instagram font can be done in just a few minutes by following an online tutorial. There are options across the internet for freebies and paid fonts alike.
How does the Instagram font generator work?
Generate cool stylish copy and paste IG fonts that are Unicode characters
This tool has two parts. One part is where you enter the text and the other where dfferent font styles are generated. To understand the working of font generator, let us first understand what are unicodes.
Unicode is a standard for encoding characters that includes all of the world's major scripts. It allows for the exchange of text in any language, and it is used by most computers and devices. Unicode characters are represented by code points, which are assigned to characters in the standard. More details around unicode can be found here.
How does the Instagram font generator work?
The fonts that you see on this website are not the actual fonts. They are Unicodes. The tool matches the corresponding unicode character to the input text by the user and present it before you on the screen.
The unicode generated are copy and paste Instagram font. Each of the cool text generated are attached with a Copy button. Even if you click on the load more button as you scroll down the copy button is attached. That's why this tool is unique and generates over 150 different IG fonts. just select the text and use the copy button to change instagram bio font.
You can also find some Instagram font styles combined with different emojis or different fonts. This font generator auto combines fonts to emojis and symbols to provide you the best results and to save your time. However, you can also copy fonts one by one and paste it in one place and can rearrange them to create a fancy text of your choice.
Tips on choosing ig fonts
When choosing Ig fonts, it is important to choose a font that will work well with the pictures and videos that will be posted on the account. Calligraphy fonts work well with photos and videos, while bold and bold italic fonts work well with videos and photos that use a lot of text.
While there are thousands of fonts out there, that doesn't mean you should use them all. Once you've chosen a font for your business, you want to stick with it wherever possible. Using a consistent font gives your brand a clear identity, which can help you build trust with your audience.
| | | |
| --- | --- | --- |
| instagram text font | instagram stylish font | instagram bio fonts copy and paste |
| stylish font for instagram | font bio instagram | insta font generator |
| instagram bio text | font changer instagram | instagram bold text |
Best use of Insta fonts
Best places to use Copy and Paste Insta fonts is your Instagram profile and on other social be it facebook, tumblr, or Twitter
Using an insta fonts is a quick and easy way to create an Instagram post that matches your brand's look and feel. A font generator can match any graphic with any font, so you can make Instagram posts with type that matches logos, colors, and branding.
Also, you can use a font generator to create type that matches a color scheme, like white type on a blue background. If you are running a business or organization and want to match your Instagram posts to your logo or other branding elements, you can use a font generator to quickly get the job done. The best part is that most font generators are free and easy to use.
So, if you need to make an Instagram post that matches your brand's look and feel, look no further than an insta fonts generator.
Mainly these fonts are used to:
Write beautiful captions.
Change the font style of Instagram profile name.
Create cool Instagram stylish bio.
Instagram Font Changer
Best tool to change your Instagram Font Style in just one click
Instagram font changer allows you to change your Instagram font style in just one click.. The best part of this tool is the ease with which this can change your text to fancy text. And not only that you can also find a "copy" button on the right side of the text which allows you to copy the entire text in just one click. These all features are very unique and that's what makes it the #1 Instagram font changer tool in the entire web. Below topic show you how to change the fonts step-by step. Try this amazing tool and you will use it for ever.
Here are some cool exaples of Instagram stylish bio written using this tool. What are you waiting for? Create yours in just seconds.
🆂🅸🅼🅿🅻🅸🅲🅸🆃🆈 🅸🆂 🆃🅷🅴 🅺🅴🆈 🆃🅾 🅷🅰🅿🅿🅸🅽🅴🆂🆂

įղ ą աօɾӀժ օƒ աօɾɾìҽɾʂ, ҍҽ էհҽ աąɾɾìօɾ

I̾ ̾p̾r̾a̾c̾t̾i̾c̾e̾ ̾w̾h̾a̾t̾ ̾I̾ ̾p̾o̾s̾t̾

𝐑𝐞𝐜𝐨𝐯𝐞𝐫𝐢𝐧𝐠 𝐜𝐚𝐤𝐞 𝐚𝐝𝐝𝐢𝐜𝐭 🎂

𝕰𝖛𝖊𝖗𝖞𝖔𝖓𝖊 𝖊𝖑𝖘𝖊 𝖜𝖆𝖘 𝖙𝖆𝖐𝖊𝖓 𝖘𝖔 𝖙𝖍𝖎𝖘 𝖎𝖘 𝖒𝖊

ᴵ'ᵐ ʰᵘʳᵗ ᵇᵘᵗ ᴵ ˢᵗⁱˡˡ ˢᵐⁱˡᵉ. ᵀʰᵃᵗ'ˢ ᵐʸ ˡⁱᶠᵉ.
How to change font on instagram?
Step-by-step guide to change your Instagram bio fonts:
STEP 1. Vist the website fancyfonts.top and enter your name or Instagram bio or comments, or any text that you want to convert.
STEP 2. As you enter the text the fancy font generator will provide stylish text below the input box.
STEP 3. Choose one of the font generated.
STEP 4. Click the "copy" button.
STEP 5. Open your Instagram account, and go to your profile.
STEP 6. Click on edit profile and paste the text that you copied earlier.
Formatting your Instagram Fonts
Formatting your Insta fonts has never been so simple, the only thing it requires is the text that you want to convert. Just entering the text you will get awesome and beautiful font styles.
Frankly speaking, you should play with this Ig fonts generator as much as you can. Go on hitting that "load more" button until you found the best fancy font for Instagram profile. Copy and paste your font wherever you like. You can also write a beautiful caption for your Instagram post using this tool.
I have personally tested these Instagram fonts and trust me these Instagram fonts can increase your post engagement by 200%. Don't believe me, Just try it, It's free( the best thing about this font generator).
Are copy and paste fonts compatible with instagram?
Compatible for Instagram bio, comments and posts
Officially there has been no news from Instagram about these texts. So until we get any news from Instagram, you can use this tool freely to create an amazing profile. In the future, we might see Instagram might restrict some of the "Unicodes". It's just a prediction but still, if it happens you can still use this in many other platforms to generate fancy text.