Linkedin Text Font Generator 😍 Linkedin BOLD Text Generator
Linkedin is one of the great platforms for circulating content. With 700+ million users Linkedin offers users to share their thoughts as a post or an article. But what makes the post or article unique and eye-catching.
It's the font that you are using to post your thoughts.This Linkedin Font Generator provides all kinds of Bold and Italic text that can be used on Linkedin. Fancy fonts can increase the views of your posts from zero to thousand and that too for free.
Here are some widely used Linkedin Fonts that works perfectly on your profile:
Math bold

Math bold Fraktur

Math bold italic

Math bold script

Math double-struck

Math monospace

Math sans

Math sans bold

Math sans bold italic

Math sans italic

Parenthesized

Regional Indicator

Squared

Circled

Circled (neg)

Fullwidth

Squared (neg)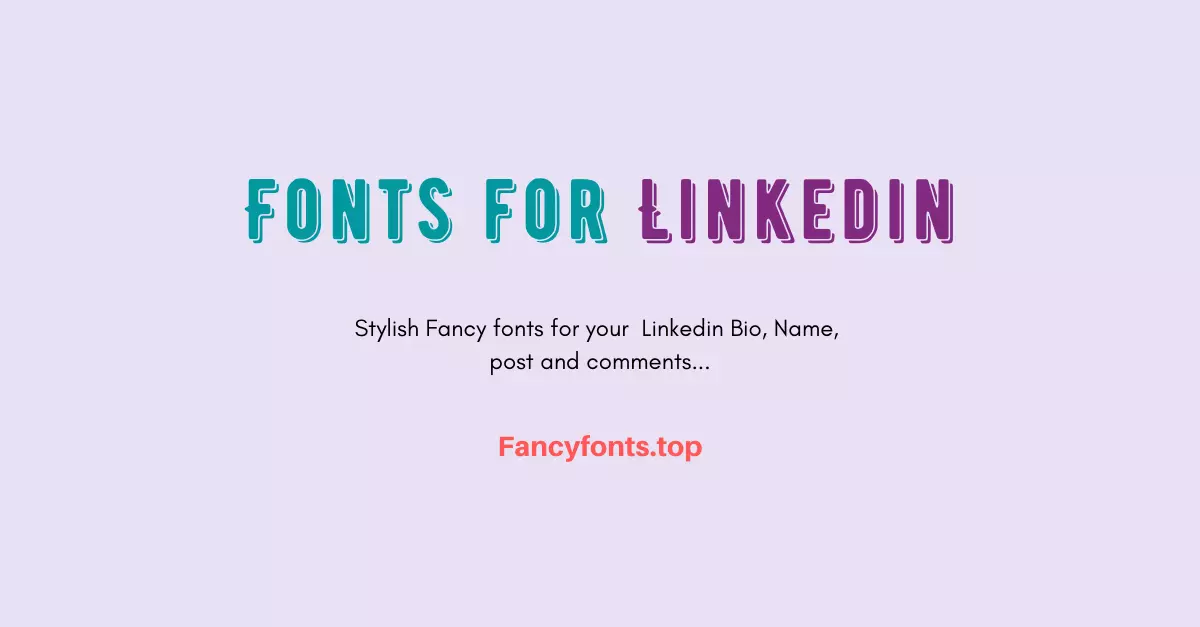 Linkedin Text Generator
This tool is a unicode text converter that generates 100+ fancy text for your LinkedIn profile. All these fancy fonts are Unicode which is why you will be able to use these fonts on your profile. These texts look good and make your profile attractive and eye-catching.
With this tool you can make-
Linkeidn text bold.

Linkeidn text italic.

Linkedin text stylish.
Benefits of using different Linkedin fonts
Linkedin is a content sharing platform and is the best place to share your thoughts if you want to ace in your professional career. I also suggest only to use bold or italic fonts on Linkedin. So this makes this tool a linkedin bold text generator.
Here are some amazing benefits of using different Linkedin Fonts in your posts:
Eye-catching profile.

Increased view of your profile.

Increase connection requests.

Increase views of your post.

Increases engagement of your post.
Linkedin Text Formatter
How to make text Bold on Linkedin?
Make text BOLD in Likedin post, follow these steps:
Go to the website: www.fancyfonts.top

Navigate to Linkedin Fonts, and click it.

Enter your text in the text area.

Now copy one of the bold text, and Paste it wherever you want.
How to write in different font style on Linkedin?
To change your Linkedin font to other stylish text, follow these steps:
Insert your text, post, article, or comments that you want to use.

Select from 100+ fonts generated by this website.

Just copy the selected text by hitting the "copy" button..

Now, Paste it wherever you want.
The tool has a well-structured UX/UI which makes it easier for the users to understand the working of this tool. This doesn't require any tutorial or a handbook. Just copy & paste is the only thing one need to do change their Linkedin font on their profile.
However, the tool gets the update whenever there is a new font is added on the platform. Also we have a separate linkedin symbols page where you can get many different cool sybmols.
Also, the font generator converts only those texts that are written in the English language. So, it is advised to not use any foul or abusive words to convert. Fancy fonts will not be responsible for any such kind of text generated.